Pablander
Regular price
Sale price
$15.00
Unit price
per
Sale
Sold out
The pack for your '2D Sketching rendering needs'. This is a pack of ZBrush render and filter settings to render any 3D mesh as a 2D rough sketch using the Best Preview Render (BPR) with a single click. The collection comes with 24 ready-to-use BPR settings to recreate the look and feel of Blue pencil sketches, graphite, pen, charcoal, and more. There are also 4 special filters and 3 custom MatCaps for a more advanced effect.
This pack of BPR filters is a fun and refreshing way of rendering your 3D meshes. I'm a huge fan of the 'illustration' look on 3D objects, so I wanted to create something that can be used on any mesh to recreate the effect of 2D sketches. The filters work really well on any type of mesh (hard-surface or organic) and all the settings can be tweaked to suit a more particular look if you want to.
The filters are very simple to use. You can load all the render settings (including tweaks to the shadows, transparency, etc) or just the filters settings and then click the BPR button, That's it! - All the filters can be further customised to suit your needs, all you have to do is select the filter/effect you want to edit and adjust the settings of how it is being applied to the rendered image.
What's included:
With this ZBrush BPR filters pack you get:
24 different BPR settings and filters to render 3D objects as 2D sketches in ZBrush
4 Special BPR filters settings that work best with the Blue_Pencil_ADVANCED MatCap
3 'Blue Pencil' ZBrush Materials
31 Tileable textures with 'Sketchy' patterns that you can use to customise the look of your renders (swapping the texture overlay filter in some of the filter settings of this pack).
4 Bonus tileable paper textures
A Quick Start Guide in PDF format with the reference for the resources of the pack and a few tips and tricks.
1 Video tutorial covering the setup and use of the filters and how to customise them.
IMPORTANT:
After checkout, you can download the resources straightaway or click on the download link that will be sent to your email. Make sure you check your spam folder as the email might have gone in there. If you create an account on the ZBGs store, you can find all your purchases in one place and you can re-download them at any time.
The filters and resources in this pack were created with ZBrush 2022.0.5 and they won't work/open in previous versions of the software.
For more information, tutorials, and resources visit:
Interested in taking your skill to the next level? - Check out the more in-depth courses and workshops at the 3DCA academy: https://www.3dconceptartist.com/
Share
View full details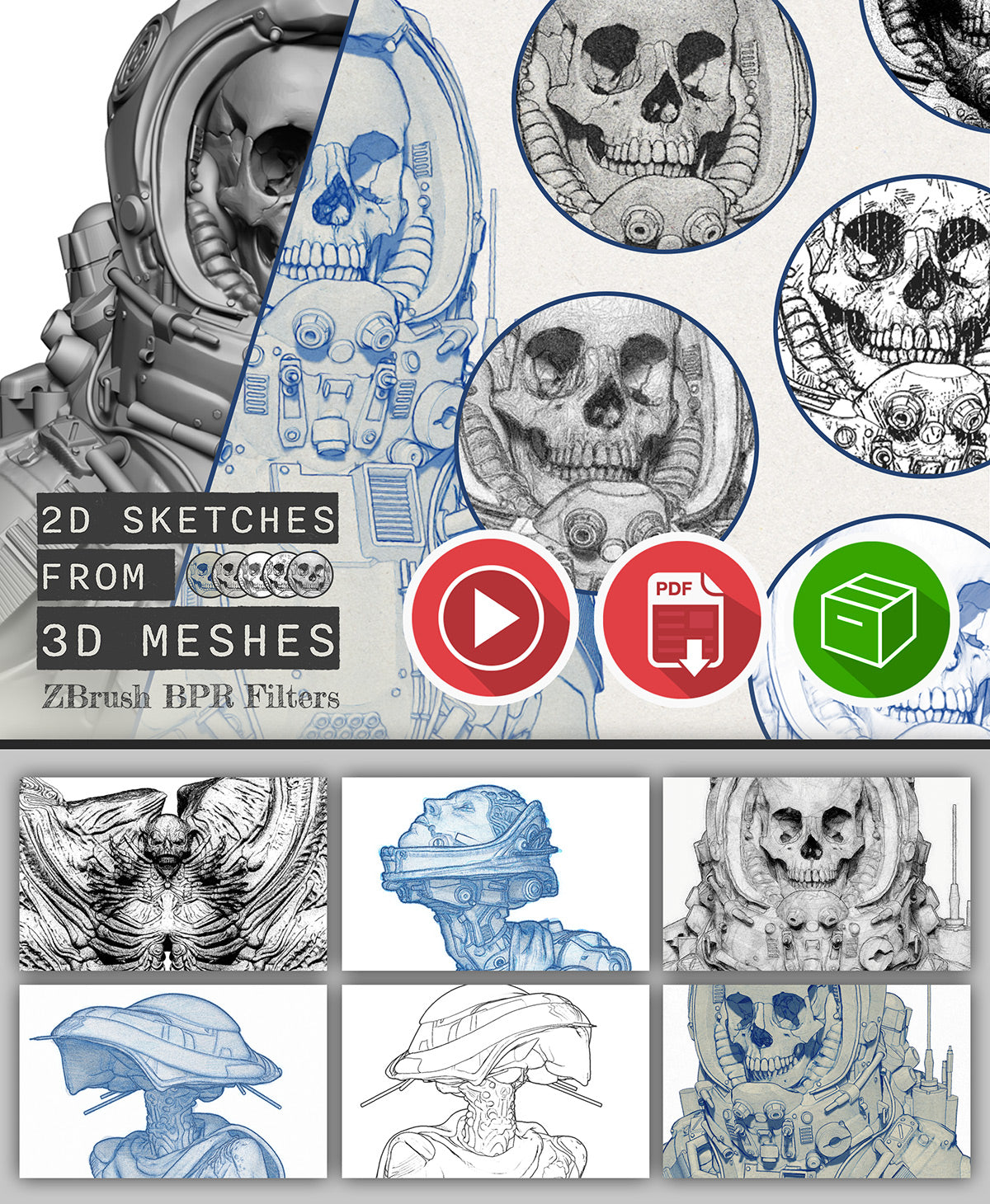 Excellent
Great fun playing with these, they're so flexible and I've learned more about the filters just through using them and following the tutorial. Highly recommend!!
Amazing
This product blow my mind, it's just a must have for any Zbrush owner
Awesome BPR filters!
Perfect solution and addition for 3d Conversion Illustration!
Perfect
I anyway love everything you do